"Trio Nova" was formed in 1994 as a duo originally named
"Dos Nova". Guitarist Pete Devine and bassist Mike Vogelmann, band mates in a bar band that had just broken up, decided to stay together as a duo to play instrumental covers of songs they liked irrespective of style or era. The musical format of the new duo came into focus when they covered a Bossa Nova piece by Antonio Carlos Jobim. Pete was able to use his training in the classical guitar and also improvise in a jazz context and Mike found a perfect vehicle for his very musical, supportive bass playing. They learned several Bossa Nova compositions by Jobim and other composers such as Luiz Bonfa and Kenny Dorham in addition to playing unique, cool arrangements of jazz, pop and r+b tunes. Pete also wrote several originals for the new duo. All the tunes had the stamp of the very original sound that "Dos Nova" was creating. They wanted to include a drummer/percussionist to the band but as they searched for the right musician to fill that post they used a drum machine to add the rhythmic groove: a compromise at best. "Dos Nova" played at cafes, bookstores, art galleries, bars, restaurants and private engagements for two years. They recorded a CD, "Club Soda", and developed a loyal following.
At this point Pete asked drummer Bill Marconi, with whom he taught at an area music school, to sit in on a gig. Bill loved the music and his percussive style of drumming instantly clicked with the band. "Dos Nova" became "Trio Nova" and the drum machine was tossed. With the addition of Bill the band refined its sound, become more exploratory musically and more empathic as a unit. They recorded a second CD, "Parallel Lines", which is still selling well at gigs and on internet music sites such as www.cdbaby.com and www.itsaboutmusic.com .
In 2004 Kris Rudzinski was brought in to sub for Bill Marconi while Bill was recovering from surgery. The group then decided to add Kris as a fourth member playing congas and percussion. In 2005 Bill left the band to concentrate on teaching and pursue other projects. Upon Bill's departure, Kris has become the bands full time drummer/percussionist.
Trio Novas unique sound is comprised of a combination of the instrumental, fingerstyle guitar arrangements by Pete that he plays mainly on the electric classical guitar, Mikes tasteful, toneful bass playing and Kris' rock solid drumming that combines his experience with jazz, rock and classical music. Their repertoire is vast and varied enough to be able to play to any room, event or concert. They play Bossa Nova, jazz, pop and originals all with a cool, groovin' style that is entirely their own.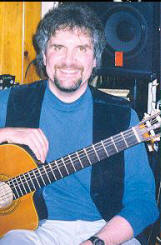 Guitarist and composer Pete Devine has played in jazz, rock and reggae bands on the east coast and Midwest for twenty years. He also performs on the solo classical guitar. He has studied at Ithaca College, Glassboro State and Rowan University and has degrees in performance and music education. He's an established guitar instructor and is on staff at the Haddonfield School of Performing Arts, the Rowan Campus School of the Arts and at his private studio. He's proud to be from New Jersey and drives a used G.M. sedan.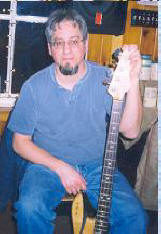 Bassist Mike Vogelmann is one of the most, if not THE most, established bass players on the Philly original rock scene. He's played with Ken Kweder, The Front Street Runners, Philly folkie Peter Stone Brown, and toured the U.S. and Europe with Ben Vaughan. Besides playing with Trio-Nova, he also plays in Del Pez, a Philadelphia based rock and roll band. He's, in addition, a certified computer tech and drives a Subaru station wagon.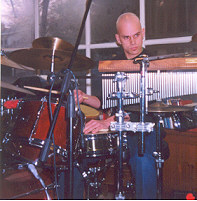 Kris Rudzinski is a freelance drummer and percussionist in the Philadelphia region. He has performed with several orchestras including The Lancaster Symphony, The Philadelphia Chamber Chorus, The Philharmonic of Southern New Jersey and several others. He has also played in the pit orchestras for several musicals. Kris has studied percussion with Dean Witten, Dr. William Albin, and steel drum with Dr. Chris Tanner. In addition to performing in the classical music realm, Kris has also been active on the popular music scene as well. He played with veteran horn band Fire & Ice and toured with Joanne Farrell. He received his Bachelors degree in percussion studies at Rowan University and his Masterís degree at Miami University. Mr. Rudzinski is a faculty member at Settlement Music School in Phila., Pa., teaching drum set and percussion since 2001. He drives a pickup truck that fits his entire rig in the cab.
It's fair to say that Trio Nova have a sound and a style that is theirs alone. The fusion of styles and instrumentation is hard to describe adequately in a word or sentence. Just go and see them play. Their eclectic approach to their repertoire is, as one fan described it, Tres Cool.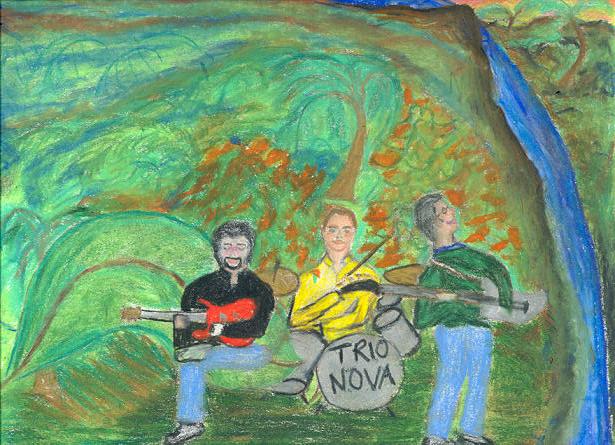 thanks to Darren Parnagian for the art.
Click here to watch 'em play
thanks to Dan Cole for the moving gif animation.